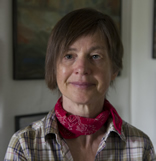 I was born in Lörenskog, Norway. Moved to Sweden in 1980 and has lived in Karlstad since 1982, except 1987 - 89 when I lived in New Zealand. I am a trained physiotherapist, but painting has been my full-time job since 1990. Member of Värmlands Konstnärsförbund since 2001.
My education is courses at Nansenskolen in Lillehammer and at Gerlesborgsskolan in Bohuslän, Basically, I am an autodidact.
In addition, I have been a teacher of painting in Karlstad.
I work in oil and acrylic and also make high quality digital reproductions (giclées) of some of my paintings. The inspiration comes from different places I have visited, and I tryi to recreate the reality as I have experienced it.
In my painting I try to capture the colors of light and shadow,
and I investigate how different objects affect each other.
For me, light painting is a symbolic language for ecological thinking.
Represented at: Gallery Bergman, Karlstad
Villa San Michele, Capri – click to read an article about my stay at the Villa (in Swedish)
Amsterdam Whitney Gallery, New York
County Council of Värmland
Karlstad Municipality
Karlstad University
A selection of separate exhibitios: Gallery Art, Karlstad
Gallery Rämen, Filipstad (three times)
Tälleruds Hembygdsgård, Alsterdalen (six times)
Gallery Fyrtornet, Karlstad
Gallery 39, Arvika (twice)
Green Gallery, Karlstad
A selection of collection exhibitions:
Lions Club in Lörenskog, Norway. Autumn exhibition 2017, 2018
Galerie Thuillier, Paris, September 2016
Art Expo Rome, Domus Romana Art Gallery April, 2016
Amsterdam Whitney Gallery, New York 2011, 2013
Little Treasures, Galleria De' Marchi, Bologna, Italy 2011, 2013
Contemporary International Art IV, Santa Fe and Buenos Aires, 2011 – 2012
Contemporary International Art IV, Museum of the Americas, Miami, USA 2011
Oslo Art Fair 2008, 2010
Art Tour in Karlstad 2007 – 2010, 2014, 2015, 2016
Värmland Sororce sassociation 90 years, Värmlands Museum 2009
Summer Salon, Romele Art Gallery 2009
beART/CABE arr. Goyart International, Monzon Spain 2009
Gothenburg Art Fair 2008
Premiere exhibition, ENGGården 2007
Värmland Art Society's Autumn Salon
Salons at Romele Konsthall, Lund 2006, 2007
Drawing exhibition, Art in Karlstad
Romeriksutställningen, Gallery Skaarer Norway twice
In addition, purchased for a number of art associations, including
VärmlandS Konstförening, and also to Romele Konsthall in Lund, Alsters Sockens Hembygdsförening, Centralsjukhusets i Karlstad Direktion, Domkyrkoförsamling, Karlstad, County Council of Värmland, Karlstad University and Karlstad Municipality.
I am a member of värmlands Konstnärsförbund.
Scholarships: Two scholarship stays of three weeks at Villa San Michele, Capri, Italy in 2009 and 2017.
Contact: Anne Hernegren Hauger
Fagerstagatan 15
653 49 Karlstad
anne@annesgalleri.com
Welcome to come in and look, but let me know first!